About School of Electrical Engineering
The School of Electrical Engineering has been playing a vital role in producing Engineers and Scientists of highest calibre since its inception in the year 1997. Young by years, but with a desire to move vertically upwards where sky is not the limit, the School aims at generating and nurturing next generation talents who will be capable enough to handle the problems, both foreseen and unforeseen of the country as well as of the globe. The School is aggressively moving towards that goal with a  missionary  zeal and single minded approach.
The programme of exchange of faculty with the developed and developing countries is just a baby-step in that direction.  At present, it offers Under Graduate, Post Graduate and Ph.D. programs in Electrical Engineering to cater to the ever challenging needs of technical excellence in all areas of Electrical Engineering such as Power Electronics and Drives, Power & Energy System and Power System Engineering. The B.Tech. program combines rigorous training in Engineering fundamentals and applications with specialized elective  courses to broaden the area of interest of students. The class room teachings are well supported by training in all avenues of Electrical Industry both in our country and abroad.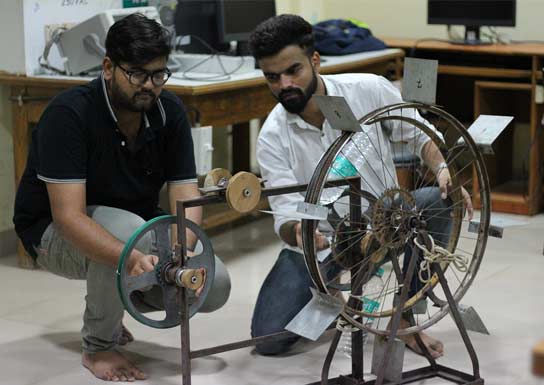 Listed below are the salient features:
The School of Electrical Engineering imparts cutting-edge skills through teaching, R&D and industrial consultancy, in frontier areas of Computer Science, Communication Engineering, Systems Engineering and Information Technology.
The well-qualified faculty members ensure understanding of fundamental concepts with a view to lay a strong foundation.
Students are trained in current technologies, analytical problem solving and product design skills to be employable in the industry.
The pedagogy is designed such that students are able to connect theory with application and motivated to applying the same in furthering their careers.
The School has strategically partnered with industry to update its syllabus, introduce industry based electives and facilitate students' internship at industry for skill development.
It has established Centre of Excellence in collaboration with industry for various research and training purposes.
The value addition training and career augmentation services prepare students to meet expectations of industry demands.
The syllabi of UG programs in diverse areas of Computer Science include core subjects as well as electives under department, institute, open and industry categories, subjects including the core subjects of science and technology.
Teaching and Research being the thrust area of the School, equal emphasis is given to research activities both original and applied. Availability of State-of art laboratories in all the areas of Power System, Control System, Power Electronics, Electric Drives, High Voltage Engineering, Renewable Energy and Material Science is a blessing in disguise for undertaking various programs and research activities. The highlight of the endeavor towards placement and in-house training for the students is the bond created between various major industries of the State and outside of it through Institute-Industry interface.
To deliver world-class education and research in Electrical Engineering, with particular
regard to their application in industry, healthcare and commerce in a diverse society.
To prepare students for professional career, higher studies and entrepreneurship.

To facilitate students in Electrical Engineering for utilization of technical knowledge and skills, to analyze, solve problems and generate new ideas and products in academia and industry.

To motivate students in multi disciplinary research work through continuous learning and to build skills beyond curriculum in the areas of emerging Technologies.

To impart the essential skills of leadership, teamwork, communication and ethics.