About School of Electrical Engineering
KIIT School of Electrical Engineering has been playing a vital role in producing engineers and Scientists of the highest caliber since its inception in the year 1997. At present, it offers Under Graduate, Post Graduate and Doctoral programs in Electrical Engineering to cater to the ever challenging needs of technical excellence in the areas of science and technology. The course structure and syllabi of each program are constantly revised to meet the ever-changing requirements of the volatile industrial market, keeping the essence of the core Electrical Engineering intact.
The faculty members are playing a pivotal role in shaping the School in all the desired aspects and grooming the students at large. Many faculty members have also been recognized for their exceptional teaching capabilities and research works nationally and internationally. From the inception, KIIT School of Electrical Engineering has a world-class infrastructure in terms of academic laboratory, research laboratory, and modern classroom.  Different laboratories are equipped with state-of-the-art hardware and licensed software from Agilent, Tektronix, Fluke, Yokogawa, De Lorenzo, National Instruments, IBM, HCL, Aplab, Zuken, Cadence, Math-works, Texas Instruments, Schneider Electric, Xilinx, etc.
Well equipped research laboratories are established as per the thrust area of faculty members which provide all necessary facilities to enhance the quality of the teaching-learning process, exploring multidisciplinary researches and consultancy in frontier areas of health care, transport, energy, communication and automation. Since long, specific research works and different training programs/ courses related to industrial automation/renewable energy have been conducted successfully.
The School has strategically partnered with different industries like NI Instruments, Siemens, Schneider Electric etc. to incorporate industry electives in the curriculum and to facilitate training /internship for the enriching of subject knowledge of the student. The value addition training and career augmentation services prepare students to meet expectations of industry demands. The school has been accredited by IET (UK), NAAC, NBA (Washington Accord) Tier-I,  UGC. University got the status of Institute of Eminence by MHRD and also listed in  QS (World University Ranking), NIRF, 301+ The Times Higher Education World University Ranking.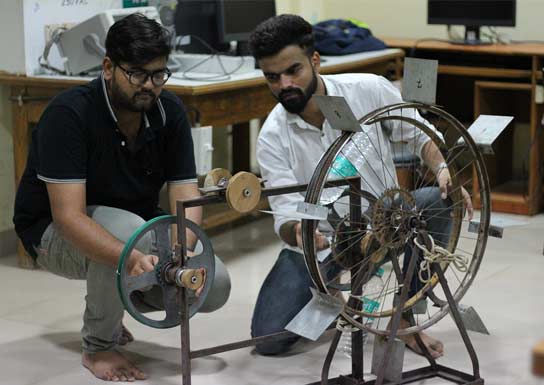 Listed below are the salient features:
The School of Electrical Engineering imparts cutting-edge skills through teaching, R&D and industrial consultancy, in frontier area of Artificial Intelligengence , Internet of things, and Bigdata.
The well-qualified faculty members ensure understanding of fundamental concepts with a view to lay a strong foundation.
Students are trained in current technologies, analytical problem solving and product design skills to be employable in the industry.
The pedagogy is designed such that students are able to connect theory with application and motivated to applying the same in furthering their careers.
The School has strategically partnered with industry to update its syllabus, introduce industry based electives and facilitate students' internship at industry for skill development.
It has established Centre of Excellence in collaboration with industry for various research and training purposes.
The value addition training and career augmentation services prepare students to meet expectations of industry demands.
The syllabi of UG programs in diverse areas of Computer Science include core subjects as well as electives under department, institute, open and industry categories, subjects including the core subjects of science and technology.
Teaching and Research being the thrust area of the School, equal emphasis is given to research activities both original and applied. Availability of State-of art laboratories in all the areas of Power System, Control System, Power Electronics, Electric Drives, High Voltage Engineering, Renewable Energy and Material Science is a blessing in disguise for undertaking various programs and research activities. The highlight of the endeavor towards placement and in-house training for the students is the bond created between various major industries of the State and outside of it through Institute-Industry interface.
To impart world  class education and research in Electronics Engineering, with particular regard to their applications in industry, healthcare and commerce in a diverse society.
To prepare students for professional career, higher studies and entrepreneurship.

To facilitate students to utilize fundamental technical knowledge and skills in Electronics engineering, to analyze and solve problems, and apply these abilities to generate new knowledge, ideas or products in academia, industry or Government.
To encourage and facilitate students, to involve themselves in research work through continuous learning, to build skills beyond curriculum.
To integrate training in engineering principles, critical thinking, hands-on projects, open-ended problem solving to build up creative abilities and research spirit.
To impart the essential skills of leadership, teamwork, communication and ethics in students to interact and communicate effectively (written and/or oral) with others (e.g., supervisor, client and/or team).
To engage students with alumni, industry, Government, and community partners through outreach activities in order to inculcate global perception.